4 sustainable sunglasses brands you should know about

Sustainable fashion gets a lot of attention. Whether T-shirt, jacket, trousers, shoes, underwear or swimwear - a wide variety of brands now offer their clothing made from recycled and renewable materials, making our eco-hearts beat faster.
Rightly so. The madness of throwaway fashion must come to an end, not only scientists and climate activists but also consumers think so.
But if we're to be eco-friendly, then let's do it properly! This means that not only our clothes but also our accessories must be made sustainable. So take a look at the top sunglass brands that are truly serious about sustainability!
What is sustainable fashion?
Fashion from sustainable manufacturing first of all means one thing: a rethink in the production of clothing. Neither humans nor animals should come to harm in the process.
In addition, sustainable fashion aims to fight the perpetual re-production of fabrics and synthetics by reusing materials or producing them from renewable raw materials. This is thanks to the vehemence of many brands who want to use sustainable, climate-neutral materials in the wake of global warming and environmental destruction.
The extent to which sustainable fashion is produced, delivered and marketed depends on the product. Many brands now offer clothes made from recycled fabrics, others rely on environmentally friendly natural fibres such as organic cotton, hemp or cellulose.
What materials are sustainable sunglasses made of?
Eco-friendly sunglasses should be just as light, durable and scratch-resistant as their non-sustainable counterparts. Therefore, the frames must be made of materials similar to those of "normal" glasses.
Learn more about three specific technologies used in the production of sustainable eyewear.
Econyl: Econyl is made entirely from marine and landfill waste, such as industrial plastic, fabric scraps from garment manufacturers, old carpets, etc. It thus offers a real alternative to the production of new plastics.
Hexetate: Hexetate, the raw material of cellulose acetate, is made from an innovative, patented acrylic resin. Acetate is a man-made fibre derived from cellulose. The purified cellulose is extracted from wood pulp. Hexetate is thus a recyclable, particularly environmentally friendly material.
Recycled plastic: The Bio-Based concept, successfully operated by the Meller brand, is an eco-friendly alternative to all regular sunglass materials as it reduces the use of unsustainable plastics. The frames are made of 45% natural-based materials, which reduces the use of fossil raw materials and carbon emissions.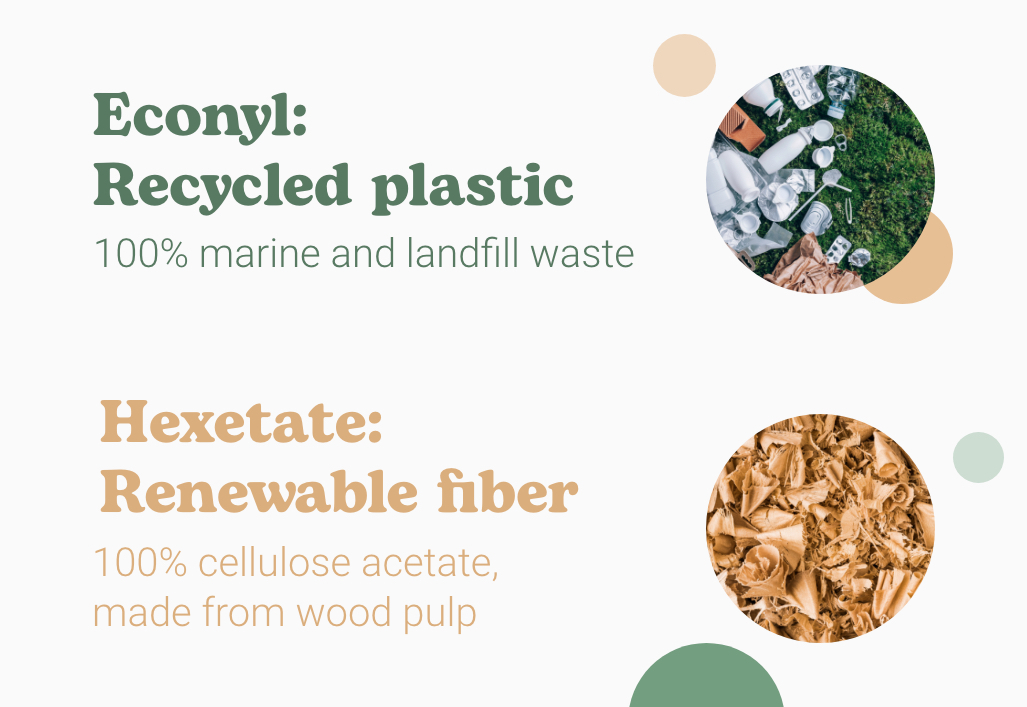 Which brands offer sustainable sunglasses?
There are now various brands and labels that produce sustainable sunglasses. At Lentiamo you can choose between fashionable designer glasses and trendy streetwear sunglasses. Whatever your taste, your face shape and your budget.
Meller Bio-Based
The frames of Meller's Bio-Based sunglasses are produced with a technology that offers a more environmentally friendly alternative to the usual frame materials. The 'Bio' labelled sunglasses are predominantly made from natural materials that have a smaller ecological footprint than conventional sunglasses and are therefore more sustainable for the environment. Sunglasses without the 'Bio' label are made from recycled plastics, saving renewable and non-renewable resources.
Polaroid
Just like the frames of the Meller Bio-Based collection, many sunglasses from the Italian brand Polaroid are also made from recycled and renewable materials. Here, too, more climate-friendly alternatives are used: the various models are made either from natural materials or recycled plastic. This effectively saves resources and reduces carbon dioxide emissions.
Tommy Jeans
The frames of Tommy Jeans sunglasses are made of Econyl, recycled nylon made from discarded fishing nets, synthetic fabrics and other plastic waste. The eco-friendly material Econyl has a particularly positive effect on the environment. As it can be renewed several times, energy and natural raw materials are saved.
Levi's
Many sunglass frames from the iconic brand Levi's are made from Hexetate, a synthetic resin that produces lightweight, flexible, durable and recyclable frames. Hexetate is thus a sustainable material that enables the production of particularly stable frames. The raw material of cellulose acetate is a kind of fibre. It is not a fossil plastic.
Still not found what you're looking for?
Many more eco-friendly shades are waiting for you at Lentiamo.
Choose sustainable sunglasses today for tomorrow!
Discover sustainable sunglasses
Best selling products