How to buy contact lenses online

You would like to buy contact lenses online? Then let the experts at Lentiamo show you how to shop the right lenses in just a few clicks!
Read this buyer's guide and see at a glance how to make the most of our wide range of high-quality contacts and various payment and delivery options.
Here is your essential guide to buying contact lenses online!
Find the right contact lenses
Finding the right contacts at Lentiamo is fast and easy. Do you already know what brand you want? Then simply enter the brand or product name in the search bar located at the top of each page and see all variants and pack sizes at a glance.
You don't know what contact lens brand is for you?
Browse through our premium selection of contact lenses
Search by brand, wearing period or by type
Additionally filter by popularity, price or alphabet
This way you can easily find the daily contact lenses, monthly lenses and extended wear lenses that best suit your needs.
A special recommendation from our experts: Lenjoy contact lenses. No matter your preferred wearing time, the Lenjoy range offers incredible visual performance, long-lasting comfort and optimal eye health thanks to their biocompatible moisture technology and UV filter.
Please consult your optician or ophthalmologist if you have any questions about changing your contact lens brand.
Set your dioptres
Once you've chosen a lens, it's all about your contact lens parameters. You can find your lens specifications on the side of your current contact lens box. If you don't yet have a prescription, contact your optician, take an eye exam and find your desired contact lenses at Lentiamo.
On the product page of our lenses, you can
enter the power of your left and right lens
specify the number of packs
see the base curve and diameters of the lens
check the availability and shipping date.
As a rule, we ship contact lenses on the same day if you order before 2 p.m. If the order is placed later, we ship the contact lenses the next day.
Please remember: only use contact lens prescriptions issued within the last 2 years to make sure that your new lenses are comfortable and correct your vision accurately.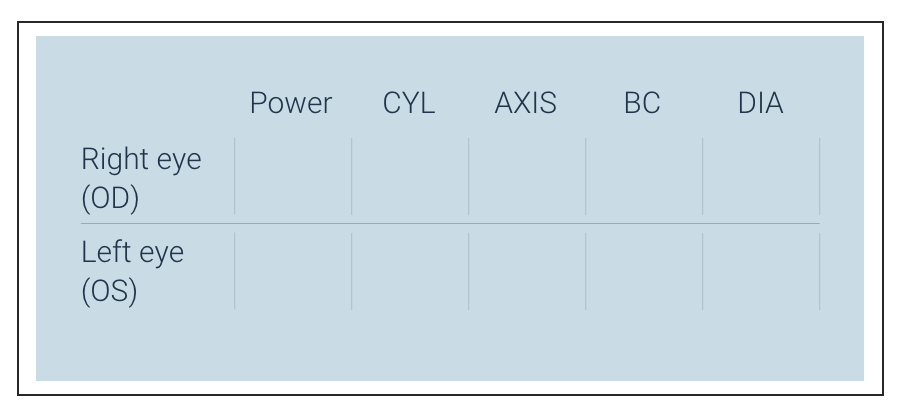 Complete your order
Now that you have entered your prescription details, you can order your desired lenses to your home.
Simply click on "Add to basket" to see your order and confirm it. In your basket you can also edit or remove the goods.
Did you know that at Lentiamo you receive bonus points with every lens order? You can use these points to order free gifts such as contact lens cases, applicators and much more. Take a look at the bottom of your basket to see how many bonus points you will receive for your lenses and choose your free gift!
Once you have added your lenses to the basket and chosen your free gift, you can complete your order in just a few simple steps.
Click on "Continue the order"
Proceed to our payment and delivery section
Choose between debit card, credit card, Klarna and PayPal
Click on "Continue the order" and enter your personal details and delivery address.
The delivery is carried out by Royal Mail, we offer free Royal Mail UK deliveries for orders above £57!
Now complete your order by clicking on the "Complete order and pay" button. You will then immediately receive your order confirmation.
Want to save money on your next order?
Sign up for the Lentiamo newsletter and receive our best offers in your inbox!