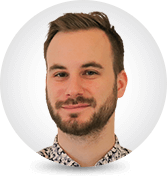 Jakub Odcházel

Chief Optician
Meet Jakub Odcházel, our chief optician! He leads our team of professionals and steadily enriches our opticians and customers with his medical know-how. But not only that - as a medical advisor at Lentiamo, Jakub also plays a central role in the creation of our medical content.
How does Jakub support the creation of our medical content?
As a medical consultant at Lentiamo, Jakub reviews all our texts about eye care. He checks the medical accuracy of our finely researched texts both during their creation and afterwards. In regular content meetings, he also brings the content team up to date on the latest developments in ophthalmology and thus provides new ideas for exciting articles.
What are the responsibilities of our Head of Opticians?
Jakub is responsible for all questions concerning ophthalmology and visual impairment. That includes ordering new optical goods, providing medical content for our texts and answering our customers' questions on ophthalmological matters.
He is also responsible for the management and operation of our optician stores, i.e. the management of 3D refraction, the use of contact lenses and advising our customers on optical products.
When it comes to hiring new medical experts, we can count on Jakub to find us the most professional opticians.
Selecting the latest sunglasses from all major brands and informing our customers about important topics such as UV radiation are no less important tasks for our specialist.