Biofinity Multifocal CooperVision (6 lenses)
Easyvision Monthly Opteyes Multifocal is also sold by name Biofinity Multifocal CooperVision (6 lenses)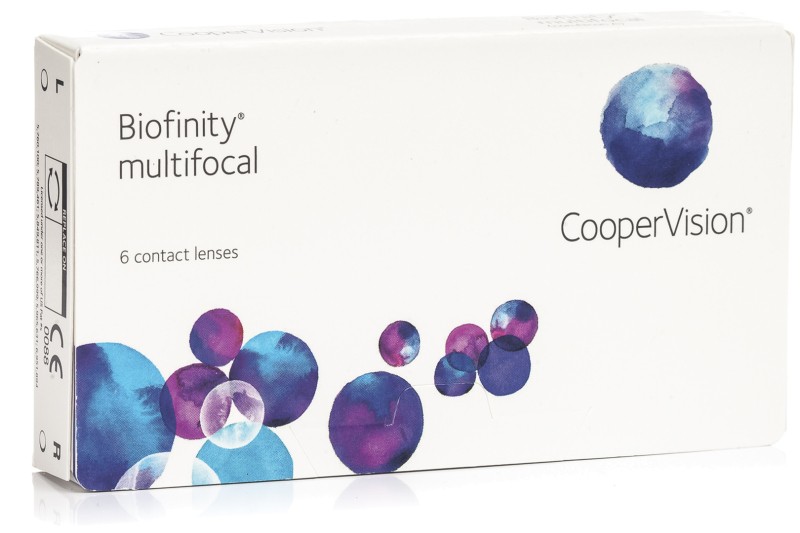 Easyvision Monthly Opteyes Multifocal is also sold by name
Biofinity Multifocal CooperVision (6 lenses).
A clear choice for optimal vision
We have unique advantages
Loyalty program
From your first purchase you get bonus points which can be exchanged for free gifts.
Free delivery
Delivery of glasses and sunglasses is on us. Orders over £45 as well, for orders of lower value you can use delivery services from £ 2.49.
365 day guarantee
Guaranteed replacement lenses if you change the prescription.
Details of Easyvision Monthly Opteyes Multifocal
Biofinity Multifocal contact lenses by CooperVision are monthly lenses designed to correct presbyopia. In addition to the benefits of the silicone hydrogel material, they feature the unique Balanced Progressive and Aquaform technologies that keep the lenses naturally moist and provide excellent vision correction.
What special technologies are used in Biofinity Multifocal lenses?
The unique silicone-hydrogel material ensures hydration of your eyes while the higher oxygen permeability prevents eye fatigue and irritation.
Advanced design and modern know-how are combined in the Balanced Progressive Technology, which incorporates multiple zones of vision correction in both lenses to provide clear vision near and far.
In addition to the excellent vision correction, Aquaform technology offers even greater wearing comfort with hydration and sufficient oxygen throughout the day. Thanks to the natural wettability of the lenses, your eyes are less stressed.
What is presbyopia?
Presbyopia is an age-related eye condition that makes it difficult to see nearby objects sharply. It usually occurs after the age of 40. The cause of the visual impairment is the reduced elasticity of the eye, which makes it difficult to focus at close distances.
With Biofinity Multifocal lenses, you can read newspaper articles as well as distant street signs. The Balanced Progressive technology allows you to see close and distant objects, and everything in between, pin sharp without sacrificing comfort and visual quality.
Biofinity Multifocal contact lenses are designed for daily use with monthly change. They can also be worn continuously for 30 days after confirmation by your optician.
Customers who bought these lenses also bought Vantio Multi-Purpose 360 ml with case.
This is a medical device. Read instructions before use.
Dear customer, we would like to inform you that the delivery of certain non-stock items, especially toric contact lenses, may be delayed due to the ongoing relocation of the EU supplier's warehouse. This affects all sellers.
| | |
| --- | --- |
| Expiration: | At least 35 months |
| Lenses in a box: | 6 |
| Inside-out indicator: | No |
| Material: | Comfilcon A |
| Extended wear: | Yes |
| Water content: | 48 % |
| Oxygen transmissibility: | 128 Dk/t |
| Silicone Hydrogel: | Yes |
| UV filter: | No |
| Easy handling tint: | Yes |
| Add: | from +1.00 to +2.50 |
| Diameter: | 14 |
| Power: | from -10.0 to +6.0 |
| Base curve: | 8.6 |
| Elastic modulus: | 0.75 MPa |
| Center thickness: | 0.09 mm |
| Weight: | 37 g |
| Manufacturer: | CooperVision |
Approved by our customers
From 3490 reviews 98% are positive. Take a look at selected customer reviews.
i