Biofinity CooperVision (6 lenses)
Switch Premier is also sold by name Biofinity CooperVision (6 lenses)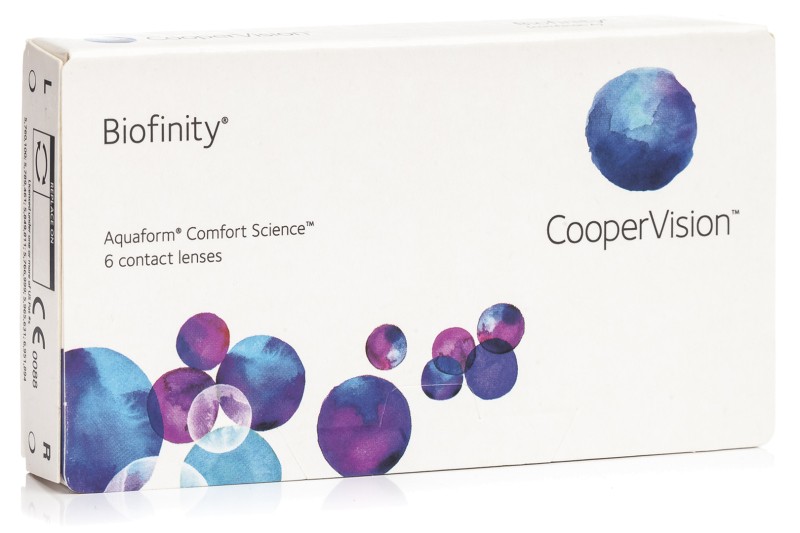 Switch Premier is also sold by name
Biofinity CooperVision (6 lenses).
A clear choice for optimal vision
We have unique advantages
Loyalty program
From your first purchase you get bonus points which can be exchanged for free gifts.
Free delivery
Delivery of glasses and sunglasses is on us. Orders over £45 as well, for orders of lower value you can use delivery services from £ 2.49.
365 day guarantee
Guaranteed replacement lenses if you change the prescription.
Details of Switch Premier
Biofinity are modern silicone-hydrogel contact lenses that, together with above-average oxygen permeability, offer a high water content. Enjoy the comfort of Biofinity monthly contact lenses by CooperVision.
The unique Aquaform technology will guarantee perfect lubrication for your eyes throughout the whole day: whether you do sports, work at a computer or read your favourite book.
Thanks to the lower content of silicone, Biofinity lenses have better oxygen permeability which helps to keep the eyes healthy and leads to better vision acuity. They are designed for everyday wear with a monthly replacement period, however, after a consultation with an ophtalmologist, it is also possible to wear them continuously.
After consulting with your doctor, you can also try new Biofinity Energys contact lenses that were specially designed to meet the demands of today's life in an increasingly digitalised world.
Customers who bought these lenses also bought Solunate Multi-Purpose 400 ml with case.
This is a medical device. Read instructions before use.
Dear customer, we would like to inform you that the delivery of certain non-stock items, especially toric contact lenses, may be delayed due to the ongoing relocation of the EU supplier's warehouse. This affects all sellers.
Customers who tried Lenjoy Monthly Day & Night (6 lenses) loved the easiness and top quality of their new lenses. They've decided to switch to Lenjoy. How about you? Are you ready for a change?
| | |
| --- | --- |
| Expiration: | At least 24 months |
| Lenses in a box: | 6 |
| Inside-out indicator: | No |
| Material: | Comfilcon A |
| Extended wear: | Yes |
| Water content: | 48 % |
| Oxygen transmissibility: | 160 Dk/t |
| Silicone Hydrogel: | Yes |
| UV filter: | No |
| Easy handling tint: | Yes |
| Diameter: | 14.0 |
| Power: | from -12.0 to +8.0 |
| Base curve: | 8.6 |
| Elastic modulus: | 0.75 MPa |
| Center thickness: | 0.08 mm |
| Weight: | 31 g |
| Manufacturer: | CooperVision |
Approved by our customers
From 3490 reviews 98% are positive. Take a look at selected customer reviews.
i