Air Optix Night & Day Aqua (6 lenses)
Easyvision Aquaeyes is also sold by name Air Optix Night & Day Aqua (6 lenses)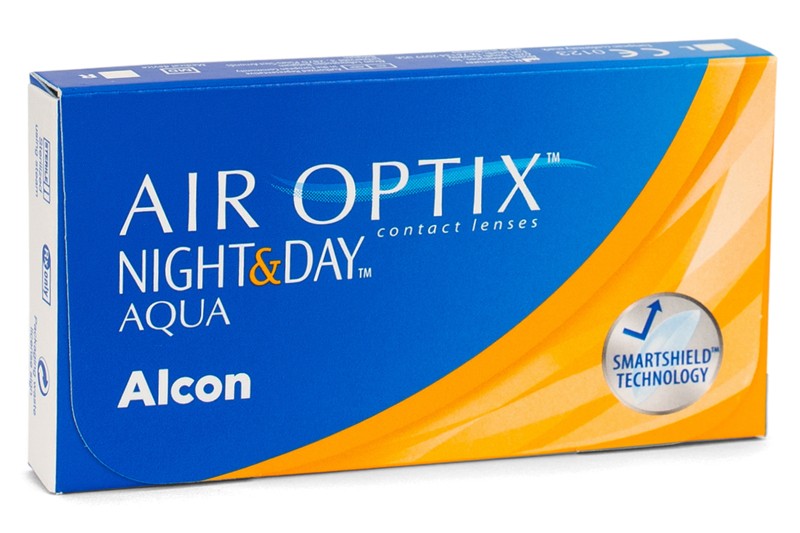 Easyvision Aquaeyes is also sold by name
Air Optix Night & Day Aqua (6 lenses).
A clear choice for optimal vision
We have unique advantages
Loyalty program
From your first purchase you get bonus points which can be exchanged for free gifts.
Free delivery
Delivery of glasses and sunglasses is on us. Orders over £45 as well, for orders of lower value you can use delivery services from £ 2.49.
365 day guarantee
Guaranteed replacement lenses if you change the prescription.
Details of Easyvision Aquaeyes
Air Optix Night & Day Aqua are monthly silicone hydrogel contact lenses by Alcon designed for daily wear. Thanks to their moisturising system they will feel comfortable not only straight after application but also at the end of their wearing period. Another great feature they offer is a slight tint of the lens and an indicator that will help you tell if your lens is inside out. Air Optix Night & Day Aqua are one of the top-quality contact lenses on the market.
One of the unique qualities of Air Optix Night & Day Aqua lenses is their high level of oxygen transmissibility that ensures enough oxygen can reach your eyes even when they're closed (during sleep). Their high oxygen permeability allows for continuous wear for up to 30 days and 29 nights. However, always consult the possibility of continuous wear with your contactologist.
Optix Night & Day Aqua contact lenses feature the hydrating Aqua Moisture system that increases wettability and provides other great qualities: it prevents dehydration of the lens and thus allows for its maximum softness and comfort during wear. Furthermore, a silky layer on the lens surface allows for smooth eye lid movement with minimum friction. The ultra-soft surface is also resistant against debris deposits.
We offer the Air Optix Aqua contact lenses in other versions as well, such as Air Optix Colors coloured contacts or the innovative Air Optix Plus Hydraglyde contact lenses with a moisturizing HydraGlyde Moisture Matrix complex and SmartShield technology against debris accumulation.
Customers who bought these lenses also bought Vantio Multi-Purpose 360 ml with case.
This is a medical device. Read instructions before use.
Customers who tried Lenjoy Monthly Day & Night (6 lenses) loved the easiness and top quality of their new lenses. They've decided to switch to Lenjoy. How about you? Are you ready for a change?
| | |
| --- | --- |
| Expiration: | At least 12 months |
| Lenses in a box: | 6 |
| Inside-out indicator: | Yes |
| Material: | Lotrafilcon A |
| Extended wear: | Yes |
| Water content: | 24 % |
| Oxygen transmissibility: | 175 Dk/t |
| Silicone Hydrogel: | Yes |
| UV filter: | No |
| Easy handling tint: | Yes |
| Diameter: | 13.8 |
| Power: | from -10.00 to +6.00 |
| Base curve: | 8.4, 8.6 |
| Elastic modulus: | 1.2 MPa |
| Center thickness: | 0.08 mm |
| Weight: | 24 g |
| Manufacturer: | Alcon |
Approved by our customers
From 3490 reviews 98% are positive. Take a look at selected customer reviews.
i