COMPUTER VISION SYNDROME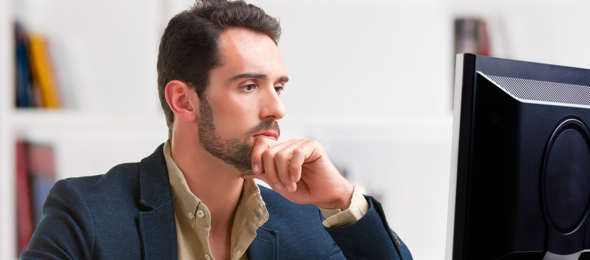 4. 2. 2015
Shopping tips
,
Advice
Whether we're at work, at home, or even travelling between the two, we're spending more time looking at screens and monitors then ever before. Predictably, as our lifestyles change, so too do the demands they make on us. And this includes our eyes…
What is Computer Vision Syndrome?
Constant, repetitive use can wear our bodies out, as anyone who has experienced a condition like tennis elbow or carpel tunnel syndrome will agree. But most of us aren't aware that our eyes can also be affected in a similar way. More often than not, this condition is caused by spending long amounts of time looking at screens, which is why professionals in the industry call it Computer Eye Strain, or Computer Vision Syndrome (CVS). So how do you know if you have CVS? And how can you treat it?
Do you spend more than three hours a day in front of a computer screen?
If the answer's yes, you may be susceptible to CVS. And if you experience symptoms such as red, burning eyes; vague headaches; neck and shoulder pain; a cutting sensation under the eyelids; and unexplained fatigue, then the chances are you do have CVS.
Although these symptoms are quite general and can be explained in a number of ways (i.e. not enough sleep, poor posture etc.), the most common cause is usually Computer Vision Syndrome. In fact, some studies suggest that up to 90% of people who sit for at least three hours a day in front of a computer screen suffer from CVS.
Prevention is better than the cure
There is no specific treatment or cure for CVS. Although it causes discomfort at the time, it doesn't leave any permanent damage, and the best way to confront it is to try and stop it from happening in the first place. The main ways to do this are:
..Make sure your screen is between 40 and 50cm away from your eyes
..Take regular breaks – according to the UK Government, employees are eligible for a 5–10 min safety break for every two hours of work
..Use appropriate lighting – the more your screen reflects light, the more it will strain your eyes
..Try some eye yoga
..Invest in computer glasses
Eye Openers: Solving CVS Your Way
What do you do to stop eye fatigue when you look at a screen? Any special eye exercises? Dietary supplements? Gizmos or gadgets? Share your tips with us, and someone, somewhere might have happier eyes thanks to you!
Best selling products
People also read…