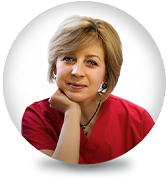 Dr Maya Mineva

Eye Doctor
Dr Maya Mineva is a very experienced eye doctor, who specialises in eye diseases. As the author of Lentiamo's medical content, she informs contact lens wearers, and all people with eye problems, about visual ailements and the appropriate treatment options, as well as giving useful information regarding vision in general.
What role does Dr Mineva play in the creation of our medical texts?
Dr Maya Mineva collaborates with Lentiamo, publishing ophthalmological related content. In her profession, she confronts serious eye diseases on a daily basis and she is well aware of which treatment can help with any specific problem. Since many of her patients wear contact lenses or glasses, the ophthalmologist knows exactly how to explain complex medical issues in a simple and understandable way. She shows this skill with her medical texts for our blog and glossary.
What is she specialised in?
Dr Maya Mineva works in her individual ophthalmology practice. She is specialised in eye diseases and medical conditions and treats contact lens and glasses wearers on a daily basis. Her main focus is on:
Strabismus, amblyopia, binocular sensors
Prevention of pediatric vision - strabology and orthoptics
Fluorescein angiography of chorioretinal disorders
Laser treatment in patients with diabetic retinopathy
Optical coherence tomography
Computer perimetry
Learn more about Dr Mineva at:
Website: www.drmayamineva.com
Email: mineva.maya@gmail.com
Phone number: +359 898 74 10 84
Address: Selena Hospital, Blvd. Peshtersko Shose 80, Plovdiv, Bulgaria