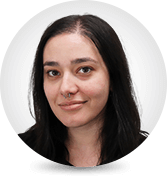 Maria Chiara Tarsia

Editorial Manager
Maria Chiara is the editorial manager at Lentiamo. Her main topics of interest include contact lens care, eyewear trends and eyecare prophylaxis.
Additionally, she proofreads the texts from other authors and verifies the accuracy of our medical contents with our optic team.
She oversees that
our articles are always useful, informative and approachable for our readers.
the sources used for our texts are always extensive and up-to-date.
this website is a grammar mistakes and typos free zone!
We put great care in this to ensure that our readers can find reliable and helpful content on our website, whether they're looking for information regarding the health of our eyes or the current trends in eyewear.