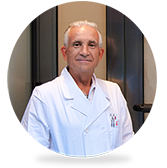 Dr Giorgio Mattana

Eye doctor
Dr Giorgio Mattana collaborates with Lentiamo by writing informative articles on eye pathologies and surgical techniques of eye surgery.
For over 30 years Dr Mattana has been practising as a surgeon in the Italian region of Sardinia, mainly in the provinces of Cagliari and Oristano where he is responsible for three operative surgical units. He is the founder of the brand new avant-garde eye centre called "Oculus Centro Oculistico Laser" based in Cagliari. During his career, Dr Mattana personally performed over 40,000 surgical procedures of various types, including:
FemtoCataratta FLACS (Femto Laser-Assisted Cataract Surgery) with Premium lens implant
Refractive lensectomy with FLACS technique and with premium lens implant
Correction with excimer Laser of visual defects such as myopia, hyperopia, astigmatism, presbyopia and amblyopia (with PRK, LASEK, LASIK and SMILE techniques)
Phacoemulsification Cataract surgery with IOL lens implant
Keratoconus surgery (Cross-Linking, Iontophoresis, Intrastromal Corneal Rings and Cornea Transplant)
and many others.
You wanna know more about our ophthalmologist? Check out his website and social media: