Miru 1 month Multifocal (6 lenses)
Easyvision Monthly Orba Multifocal is also sold by name Miru 1 month Multifocal (6 lenses)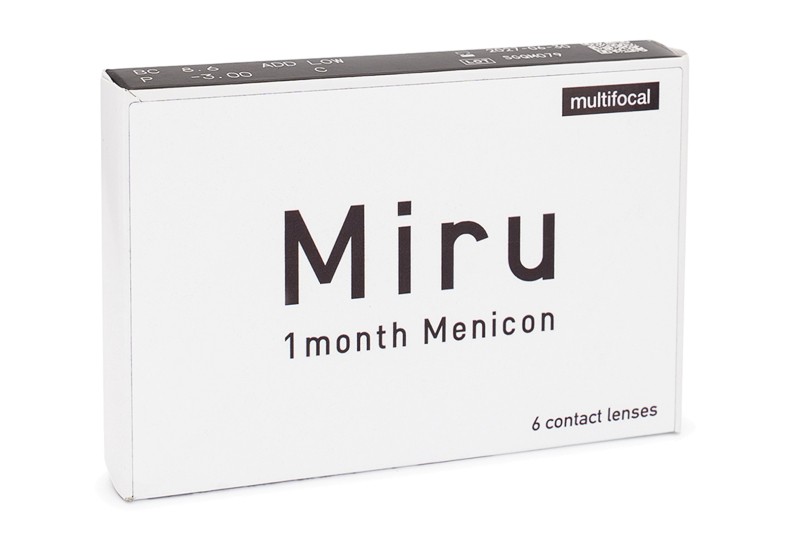 Easyvision Monthly Orba Multifocal is also sold by name
Miru 1 month Multifocal (6 lenses).
A clear choice for optimal vision
We have unique advantages
Loyalty program
From your first purchase you get bonus points which can be exchanged for free gifts.
Free delivery
Delivery of glasses and sunglasses is on us. Orders over £45 as well, for orders of lower value you can use delivery services from £ 2.49.
365 day guarantee
Guaranteed replacement lenses if you change the prescription.
Details of Easyvision Monthly Orba Multifocal
Miru 1 month Multifocal are monthly multifocal contact lenses for the correction of presbyopia.They are made of a silicone-hydrogel material. They provide a sharp vision at all distances due to the combinations of optic zones that flow smoothly into one another.
Miru 1 month Multifocal contacts are designed for daily wear with a monthly exchange period, and they are specifically designed to reduce dry eye syndrome. Their name is derived from the Japanese word miru – "to see". The lenses have a transparent dye shade to help make the handling easier.
Material and surface technologies by Menicon
MeniSilk™
Unique silicone polymerization and innovative hydrophilic monomer, MeniSilk™ technology delivers one of the highest levels of oxygen transmission (Dk/t) of any commercially available disposable lens. Higher oxygen transmission ensures that every part of the eye gets the maximum amount of oxygen, and thereby healthier eyes.
Ultra high Dk/t
Exceptional hydration
Optimized transparency
NanoGloss™
Unique surface technology and nanometer precision.
Super smooth surface
Resistance to bacteria
Excellent wettability
Miru 1 month Multifocal lenses have one of the highest oxygen permeabilities, and thanks to the applied MeniSilk™ and Nanogloss™ technology, they provide extra hydration and comfort. The advanced technology used in Miru contacts makes a perfectly smooth surface that improves hydration, reduces lipid and protein deposits, while minimizing bacterial deposition.
Miru multifocal contact lenses are available with LOW and HIGH additions. The manufacturer recommends LOW for users with addition +1.00, and HIGH for users with an addition from +2.00 and on.
Customers who bought these lenses also bought Solunate Multi-Purpose 400 ml with case.
This is a medical device. Read instructions before use.
| | |
| --- | --- |
| Expiration: | At least 36 months |
| Material: | Asmofilcon A |
| Easy handling tint: | Yes |
| Extended wear: | No |
| Water content: | 40 % |
| Oxygen transmissibility: | 129 Dk/t |
| UV filter: | No |
| Silicone Hydrogel: | Yes |
| Inside-out indicator: | No |
| Lenses in a box: | 6 |
| Power: | from -13.00 to +6.00 |
| Diameter: | 14.2 |
| Base curve: | 8.6 |
| Add: | Low (+1.00), High (+2.00) |
| Center thickness: | 0.08 mm |
| Weight: | 32 g |
| Manufacturer: | Menicon |
Approved by our customers
From 3491 reviews 98% are positive. Take a look at selected customer reviews.
i