Avaira CooperVision (6 lenses)
Switch Evolve is also sold by name Avaira CooperVision (6 lenses)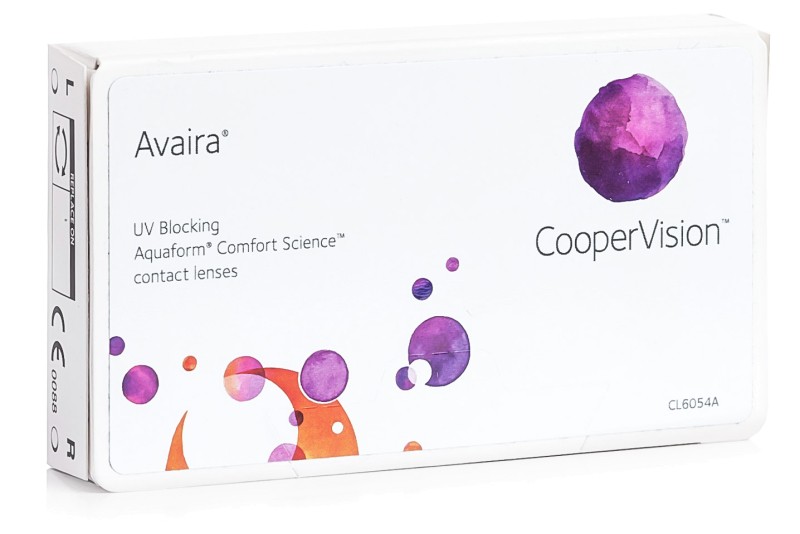 Switch Evolve is also sold by name
Avaira CooperVision (6 lenses).
A clear choice for optimal vision
We have unique advantages
Loyalty program
From your first purchase you get bonus points which can be exchanged for free gifts.
Free delivery
Delivery of glasses and sunglasses is on us. Orders over £45 as well, for orders of lower value you can use delivery services from £ 2.49.
365 day guarantee
Guaranteed replacement lenses if you change the prescription.
Details of Switch Evolve
Avaira contact lenses, from CooperVision, are made with Aquaform – innovative technology that maintains lens water content and supports oxygen transmissibility for clear, white eyes. Avaira's anterior aspheric surface brings improved vision in low light conditions and eliminates light astigmatism. These lenses are favoured for their ability to follow the surface of cornea, rounded edges for comfort, and soft, flexible material.
The contact lenses are no longer in production, the only versions available are the ones currently in stock.
We offer you the innovative Avaira Vitality contact lenses with an improved UV filter and higher water content as an alternative. 
The UV filter in contact lenses increases the protection of the cornea from the dangerous ultraviolet radiation. However, lenses do not cover the entire eye or eye area, so the combination of contact lenses that have UV filter and sunglasses is the ideal protection against harmful UV rays.
This is a medical device. Read instructions before use.
Dear customer, we would like to inform you that the delivery of certain non-stock items, especially toric contact lenses, may be delayed due to the ongoing relocation of the EU supplier's warehouse. This affects all sellers.
| | |
| --- | --- |
| Expiration: | At least 11 months |
| Lenses in a box: | 6 |
| Inside-out indicator: | No |
| Material: | Enfilcon A |
| Extended wear: | No |
| Water content: | 46 % |
| Oxygen transmissibility: | 125 Dk/t |
| Silicone Hydrogel: | Yes |
| UV filter: | Yes |
| Easy handling tint: | Yes |
| Diameter: | 14.2 |
| Power: | from -12.00 to +8.0 |
| Base curve: | 8.5, 8.4 |
| Elastic modulus: | 0.6 MPa |
| Center thickness: | 0.08 mm |
| Weight: | 21 g |
| Manufacturer: | CooperVision |
Approved by our customers
From 3490 reviews 98% are positive. Take a look at selected customer reviews.
i