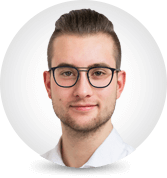 Vojtěch Brtinský

Optometrist
Vojtěch is part of the Lentiamo team of medical experts. As a qualified optometrist, he plays a major role in the creation of our medical texts. Learn more about Vojtech's work and his areas of expertise.
What are the tasks of our optometrist Vojtěch?
Vojtěch is specialised in the application of contact lenses and devotes special attention to our customers and the comfort of their eyes. In the past, he worked together with several doctors and learned how to perform complex eye measurements. Thus our team of optometrists consists of experienced members of the ophthalmology community.
How does Vojtěch support the creation of our medical content?
With his experience in ophthalmology, Vojtěch is a perfect contact for our editorial team. He helps significantly with the development of contact lens topics and supports the research and correction of our scientific blog and glossary articles. But he is not only a great help in the creation of medical texts. When it comes to eyewear fashion, the young optometrist is also always one step ahead of today's trends and is fascinated by tomorrow's styles.