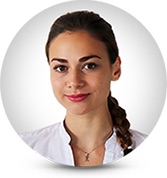 Kristýna Pokorná

Optician
Kristýna is a special member of our optician team and plays a central role in style consultation and eyewear trends. Both in our optic store and as part of our content team, she enriches our customers and readers with her flair for fashion.
How does Kristýna accompany our content?
Kristýna supports our content by inspiring our editors with the latest sunglasses and spectacles trends. She introduces the most aspiring brands and forecasts tomorrow's trends.
Her main tasks include:
highlighting our customers' style and type
providing expert advice on the selection of suitable spectacle frames
recommending lenses that fit our customers' lifestyles
checking the accuracy of dioptres measured by other doctors