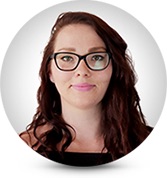 Anna Sucha

Optometrist
Anna is a licenced optometrist at Lentiamo and member of our optician's team with more than 4 years of experience in eye refraction.
She continuously enriches us and our customers with her knowledge and experience in the field of ophthalmology.
What role does Anna play in the creation of our medical content?
Although Anna doesn't write our content (that is done by one of our content editors), she plays a key role in reviewing our medical content and ensuring that every piece of content we publish is scientifically sound.
Her main tasks are to
develop interesting topic ideas
inform our authors about complex optical issues
and to check our content for accuracy.
Furthermore, Anna is responsible for executing eye refractions in our optician shop. She is a professional when it comes to using the latest eye care technologies. Every day Anna advises our customers on the use of contact lenses and informs them about eye diseases and the right care for contact lenses and glasses.