Winter without misty glasses? Let's go!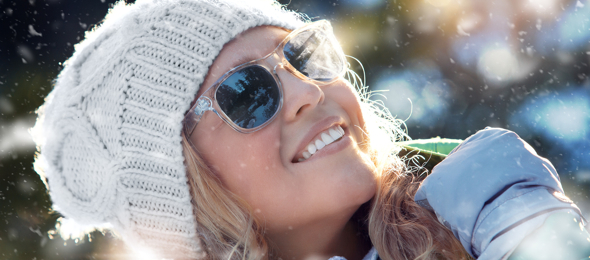 6. 1. 2016
You know the feeling, you go into a building and you can see practically nothing! Your first impression is a blurred view of your surroundings. You quickly rip off your gloves and try to wipe your dewy spectacles. Then, once you can focus, you see that around your eyes and on the side of your head there are the embossed grooves left by your rimless glasses and nose bridge. When all this is over and you are going out again, there begins an endless carousel of worry about slipping somewhere and not breaking your spectacles, or getting them lost in a snowdrift – followed by a fruitless hunt for an open optician which has just closed for the holidays. On the ski slopes, your vision blurs at the most unfortunate moment or they start to push themselves under your helmet and so on.
Sound scary? Or even familiar? And we still haven't mentioned that taboo subject of wearing goggles and still seeing well which will cost you at least twice as much a pair for a 'normal sighted mortal' would cost!
How, then, to enjoy your winter to the fullest? Simple really… buy contact lenses! Do you worry whether lenses are actually such an easy, trouble-free solution? That's what we're here for! Below we will attempt to refute the most common myths and fears about contact lenses.
1. Frost: Lense-wearers suffer from cold and extreme temperatures. None of these things would cause you any worry. Contact lenses match your body temperature and stay constant all the time you wear them – just like your eyes.. For added convenience, experts recommend using moisturizing drops that enhance your comfort. This does not depend on the season – it is advisable to use eye drops throughout the year anyway.
2. Eyes with lenses moisten and burn more than those without Of course, if you wear glasses, you are accustomed to having a glassy wind break in front of your eyes that prevents the full gust of wind hitting you. However, if you wear lenses, your eyes will behave like normal, healthy eyes – in extreme situations they will sometimes moisten (this is their natural reaction), but if you take the opportunity to humidify your eye drops and wear sunglasses in the wind (which, by the way, you can alternate to suit your clothes, as they are much cheaper than prescription spectacles) you'll again feel the comforts of life without spectacles. And, if you want to avoid using eye drops, buy lenses with gradual-release moisturizing ingredients.
3. Solutions can not be transported and must be kept at room temperature Although manufacturers state that solutions must be stored at room temperature, you do not have to worry about that preventing you travelling! Putting the drops in your baggage – which will be cold for only the shortest period of time – is not ideal as the drops slowly begin to lose their properties after more than an hour in direct frost. So, carry them in your hand luggage that you take with you on the plane, bus, car, train … solved!
The result? Lenses are (not only) in winter the perfect choice! Foggy lenses on spectacles you didn't remove, getting them trapped under a cap or helmet, being able to wear a plethora of affordable sunglasses and ski goggles, you will not have to worry about crashing or disappearing under a snowdrift or perhaps breaking them. Another positive aspect is the indisputable fact that lenses, unlike spectacles, do not restrict your peripheral vision.
Do you have more questions? Can you think of any other arguments for or against wearing lenses? Share your thoughts with us and with your friends on facebook or here in our comments section! We wish you a peaceful, frosted-spectacle-free winter!
Best selling products
People also read…