WHEN GLASSES JUST WON'T DO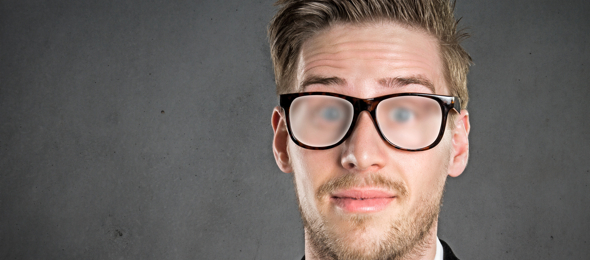 29. 4. 2015
Advice
It's thought the first pair of glasses was made around 700 years ago, changing the way people saw the world forever. And while glasses are still popular today, advances in technology mean there's sometimes a better option…
Those times when glasses just won't do
When they steam up…
Fogging. Steaming. Misting. Whatever you call it, it's a bit vexing when it happens to your glasses. And, if you live in a cold country, the delights of coming in from a chilly winter's day and settling down with a cup of tea are no doubt heckled by Team Steam. It's hard to see through glasses when they're not see-through!
When it rains…
It's almost unbelievable that in this day and age, no one has invented a serious pair of glasses with mini 'windscreen' wipers. Admittedly, they might not win you any favours in the fashion world, but anyone who has experienced rain-splashed glasses will understand how irksome it can be. Of course, you could try contact lenses. They don't mind the rain.
When you can't stop fidgeting with them…
Constantly moving your glasses around can be unnerving for the people you speak to, as well as irritating for you! Pushing them up, adjusting them, keeping them on your head and then forgetting where they are….it's all a bit hassle-tastic really. But if you wear contact lenses you're allowed to forget they're there! You're supposed to, in fact.
When you fall asleep wearing them…
You're lying in bed watching TV. Or maybe you're reading a book. Regardless, you're relaxed. It's been a long day, and bed is cosy…the next thing you know, it's morning and you're lying face on a pair of broken glasses. Your only pair. Not a good start to the day. Guess what? It is, very possibly, worth remembering that this wouldn't happen if you used extended wear contact lenses
When you want to see the sea…
Swimming in the sea with glasses on. Fine, but the salt water has made them impossible to see out of. And with just one more wave they'll be knocked off your head forever. Swimming in the sea without glasses? Also fine – until you turn around and realise you can't see which direction the shoreline is. But wear contacts and you can make like a mermaid (or merman?), whilst appreciating the gorgeous view. And we're not just talking about you in your swimmers…
Eye Openers: Your Stories
Are there times when you think only glasses will do? Do you have any funny stories about inopportune glasses-wearing moments? Let us know!
Best selling products