WHAT IS THE BEST WAY TO CLEAN MY LENSES?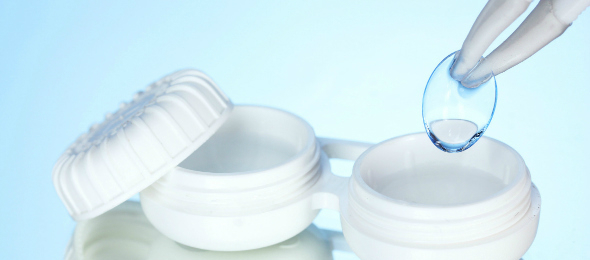 24. 6. 2015
Advice
If you use two-weekly contact lenses, monthly lenses or similar you probably recognise the confused feeling when you are supposed to buy a lens solution and don't have a clue which one would fit you best. Different brands, ingredients, properties… how should you know which one is the best one?
Now the mystery is solved – in this week's blog post we have explained the differences between lens solutions and why you shouldn't use water when cleaning your lenses. Hopefully this will shed some light on the situation!
Multipurpose lens solutions
Lens solutions in this category are the most common on the market, and that's no wonder. They are, like the name reveals, versatile lens solutions that knock two birds with one stone, cleaning and disinfecting the lenses. This makes taking care of your contact lenses as easy as it gets, and cheap as well.
Multipurpose lens solutions use a rinse-and-store technology which eliminates the need to mechanically rub the lenses to get rid of dirt. Recent studies have however shown that rubbing the lenses for about 10 seconds after rinsing them with some solution makes the cleaning even more effective.
Hydrogen peroxide based lens solutions
Hydrogen peroxide based lens solutions clean the lenses very effectively, and there are no documented cases of infections caused by these lens solutions. They don't contain any preservatives and are therefore suitable for people with sensitive eyes. They are however slightly more difficult to use, as hydrogen peroxide is toxic to the cornea and has to be neutralised before the lenses can be used. It is also recommended that the lenses are cleaned with a separate surface cleaning agent and/or saline before using the hydrogen peroxide solution.
The hydrogen peroxide can be neutralised in two ways, depending on what brand of lens solution you are using. Some lens solutions come with a special case that contains a small piece of metal that starts neutralising the solution as soon as the lenses and lens solution are inserted. The lenses should sit in the solution for a minimum of 6 hours. With other brands the lenses are placed in a regular case with the hydrogen peroxide solution, and after a certain amount of hours, a neutralising agent is added and the neutralising begins.
A word about other substances that sometimes are used in lens cleaning
Saline
Saline should not be used alone for cleaning of contact lenses. It is used e.g. together with heat or UV cleaning of the lenses. Saline is also used when cleaning the lenses with a hydrogen peroxide solution.
Water
You should definitely not use water to clean your lenses. First of all, the water does not have disinfecting properties for the lenses, and in addition to this the amoebae Acanthamoeba can be present in tap water, and can cause eye infections. It is not recommended that you use water for cleaning your contact lens cases either, but use contact lens solution instead.
Three quick facts about lens solution
1. It is recommended that you change your contact lens solution every now and then to prevent eye infections. You should however follow one rule of thumb – one lens solution per lens.
2. You should switch the lens solution in the case on a regular basis (every day if you use the lenses daily, and every 3 days if you only use them occasionally).
3. Different lens solutions suit different lenses depending on the material. Ask your optician which lens solution suits you and your lenses best.
How do you clean your lenses? Share your tips in the comments!
Best selling products
People also read…