THE WORLD'S MOST POPULAR LENSES? ACUVUE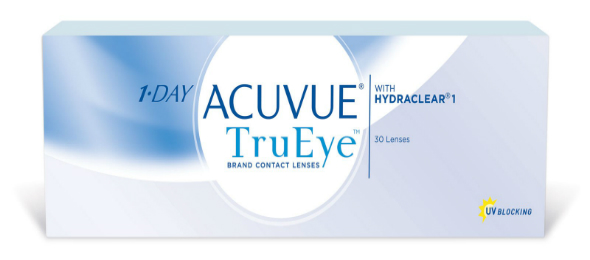 10. 6. 2015
Shopping tips
By always keeping a small step ahead. That's how the Acuvue lenses range from Johnson & Johnson has done it. The technology they use enables wearing lenses to be a lot more pleasant and more comfortable in every respect. Let's examine further together.
Technologies which keep Acuvue lenses a step ahead of others
HYDRACLEAR®: Get 100% oxygen
HYDRACLEAR® make lens wearing really comfortable. This new silicone-hydro gel which Johnson & Johnson have developed, has almost 100% oxygen permeability – eyes with the lenses absorb the same amount of oxygen as eyes without any lens.
In our e-shop, we are offering this technology on lenses such as the Acuvue Oasys for 14-day wear.
LACREON® perfectly moisturizes all day
With LACREON® technology, we offer these one-day lenses 1 Day Acuvue Moist (we ourselves wear them – for example, Eva Jenkins, UK Country Manager is a very happy customer), Acuvue lenses have prolonged hydration – even if you put them in at six in the morning and remove them at midnight, they still retain enough moisture. At the end of the day, ** when other lenses start having problems ** these are not only still in place but constantly hydrated.
Acuvue = excellent UV filter
Of course, all Acuvue lenses also offer effective protection against UV radiation as standard blocking out up to 98% of UVB rays and at least 85% of UVA rays. The daily disposable lenses 1 Day Acuvue TruEye are the best ever one-day lenses available on the market in this regard.
ASD technology: Exceptional lenses for astigmatism
ASD: Acuvue Astigmatic lenses are extremely popular due to this extraordinary technology. ASD (Accelerated Stabilisation Design) prevents the rotation and movement of lenses during blinking, holding the lenses in the same position. With astigmatism, where the slightest movement of the lens can cause blurred vision, this function is essential.
Try Acuvue?
Are you interested in the technologies used in Acuvue lenses but you are not yet using them? When you go for your regular check-up at your optician, ask about them. Holiday time is approaching and daily Acuvue lenses are the true market leaders.
Best selling products
People also read…