SEEING ON THE SLOPES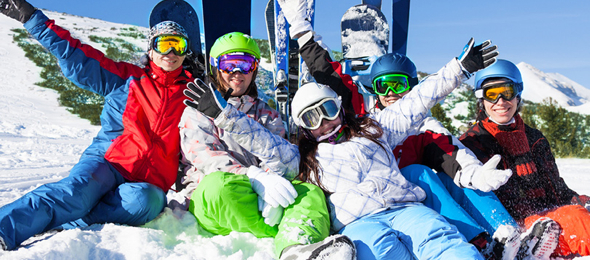 4. 3. 2015
Advice
Winter sports are the snowy silver lining to the dark winter months. But wearing prescription glasses under your goggles and helmet can prove somewhat impractical. Luckily, there are other options…
High speeds + low visibility = not a good idea
Aaaah the wonderful world of winter sports. The snow. The sun. The fresh air. The views. The glasses….the crushed ears under the helmet and goggles…the steamed lenses at après ski. Hmmmm. Something's not quite right.
It is possible to wear glasses while skiing. But they don't fit properly underneath your protective headwear, and chances are you'll find the frame of your glasses becomes your number one ear crusher. Not something you ever thought you'd have. Or want. Oh and should you take a tumble (who doesn't?) they may well smash, which is a little scary if we're honest. And, if that wasn't enough, you probably won't want those steamy lenses when you're refuelling round a cosy fire at lunch or dinner either. That'll happen though.
Of course the alternative – skiing without glasses – isn't all the enticing either. Unless you thrive on the adrenaline of working out, while flying down the hill at high speed, if the blob in front of you is another skier. Or a tree and you're actually off-piste. Adrenaline or not, this approach to winter sports is gung-ho at best, and down right dangerous at worst. We don't advise it.
Lens up to get down
Prescription goggles are available, but you'll end up paying a price that's higher than the summit of the slopes. So that leaves just one practical solution to winter sports and good vision – contact lenses. Pop them in first thing in the morning, and you'll forget all about them until you go to bed. No ear squashing, no smashing, no steaming up. Just good vision all day long. Contact lenses are ideal for all winter sports too – not just skiing. Snow boarding? Bobsleighing? Luge? Ski jumping? Lens up and get on with it!
Drops are the solution
It's worth remembering that weather in the mountains is severe – high attitudes and dry, frosty air can dry eyes out. Regardless of whether you choose lenses or glasses, it's a good idea to pack some eye drops to keep your eyes moist and comfortable.
Eye Openers: Your Winter Sports Stories
Are you a winter sports fan? What do you wear on the slopes: lenses or glasses? And why? Let us know your stories!
Best selling products
People also read…