Meet our team: Petru Culin, Head of Customer Care for Europe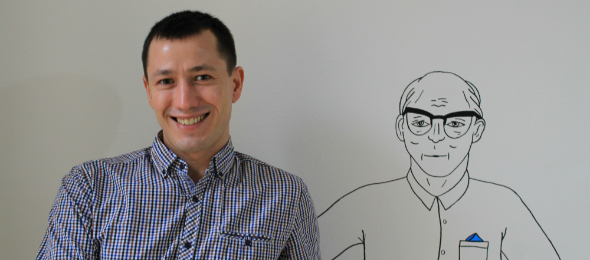 20. 3. 2016
People from Lentiamo.co.uk
Fourteen countries, fourteen e-shops, fourteen customer care departments. Up north in Sweden, down south in Italy, in Germany, Austria and Romania. To make sure that everything was going to work as it should, we needed an expert with experience in both marketing and customer service.
And we found him about a year ago. He comes from Moldova, owns a British passport and coordinates our global customer service from Prague. Meet Petru Culin.
Five questions for Petru
You are currently living in Prague, but originally you come from Moldova and also hold a British citizenship. How did it all happen?
I was living in my native Moldova until I was 15 years old, then I move abroad. I gained British citizenship in 2014 and I am very proud of that fact. I had already visited Prague during my university studies, but my current residence is due to my work for Maternia. This is where I coordinate our European customer service from.
What has been your work experience up to now? How did you come to your work for Maternia?
I used to work in the gastronomy field, namely in international hotels. I have, however, always longed for a job where I could use both my marketing and customer service experience. When the opportunity to work for Maternia arose, I knew straight away that it was the right one for me.
As the Head of Customer Service, your main responsibility is our e-shops – what is your typical working day like?
I'm very busy but I have an experienced and well-coordinated team that makes everything easier. My work focus is on three main areas – leading the customer service in all 14 countries where we operate, coordinating my colleagues and bringing about changes that improve our customer service in all communication channels.
Can you tell us more about yourself? What are your hobbies?
I like travelling and on my travels, I fell in love with cooking. I have visited about 30 countries and still plan to explore more. I like arts, I go to a ceramic class three times a week. I also like painting, techno music, and my weaknesses history books. When it comes to sport, I enjoy swimming.
An obligatory question at the end – do you have a message for our customers?
I would like to assure you that not only our customer service team, but everyone in Maternia works to make you happy and satisfied. We are always here to help!
Best selling products
Read also…