Meet our team: Denisa Pavelcová, Sales and Logistics Assistant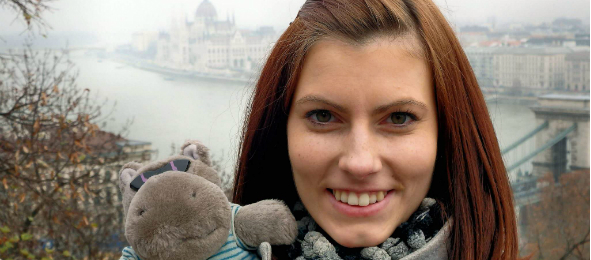 26. 4. 2016
People from Lentiamo.co.uk
Denisa makes sure that our e-shops all around Europe are sufficiently stocked with contact lenses and solutions and that parcels with contacts always end up where they are supposed to.
She is our Sales and Logistics Assistant who definitely doesn't get bored, whether at work or at home. When she's not on the road driving, she enjoys reading books by Jeffery Deaver or doing fitbox. Meet Denisa Pavelcová.
Five questions for Denisa
You have experience with customer service. Working in a café, you managed a team of people in the past – how did you get to contact lenses and Maternia?
When I finished university, I started looking for a steady job that would be more related to the area of my studies – which was Private company management. Working in a café was more of a student job, after all. Working for Maternia was thus a challenge for me and it brings me lots of new experience in my field.
You work as a Sales and Logistics Assistant – what is your working day like, do you supply all our branches or just the Czech one?
Naturally I spend most of my working day at the computer or on the phone, together with my colleague Tereza we provide supplies for all countries, making sure that everything gets here on time and in the way it should be. We are responsible for dealing all hauliers in all countries including parcel reclaims (which is probably the most exhausting part). But it's the two of us and we support each other which makes everything easier.
You come from Stod near Pilsen and currently reside in Jindřichův Hradec. Do you plan to stay in South Bohemia for good? How do you like the so called "Czech Canada" surroundings?
Jindřichův Hradec is a beautiful town, I fell in love with it straight away when I came here to study at university – I immediately knew I would like to stay here longer. Czech Canada is gorgeous, our office is right in the middle of the woods which I much prefer to looking at apartment buildings and grey streets (I'm a village girl, after all).
What about your hobbies? Have you travelled through the Jindřichův Hradec district yet? Do you like books, and if you do, who is your favourite author?
I have travelled around Jindřichův Hradec by car, as driving is possibly my biggest hobby. I have to admit that I haven't been to the famous Hluboka chateau yet but I'm sure I'll finally manage this year! I'm not against the idea of sports and recently I started doing fitbox which is a good form of relaxation after a busy day at work. When it comes to books, I enjoy crime and psychological stories the most, and even though I haven't had much time to read lately, I have finished all the books of Jeffery Deaver – I can definitely recommend them.
An obligatory question at the end: what would you say to our customers?
Thank you very much for being with us, we do our best to make sure they always get to you as fast as they can. I wish you pleasant and fast shopping!
Best selling products
Read also…