Contact lenses and horse riding. Does it go together?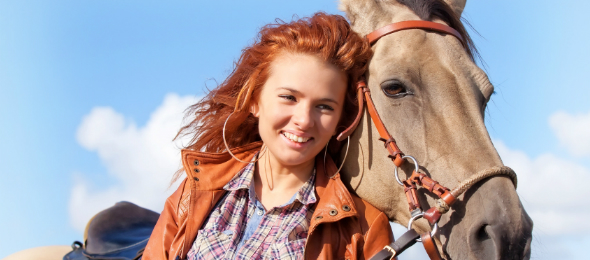 10. 5. 2016
Advice
Indeed! Do you wear contact lenses and enjoy horse-riding?
In that case, you are definitely familiar with the following scenario:
You are riding in the rain, wondering if someone has invented wiper glasses yet as you can't see a thing.
You put on your helmet while the glasses arms dig into the sides of your head.
You are in the riding hall, trying to concentrate but you get irritated by the glasses pads that keep getting stuck to your nose because of all the dust and sweat.
Is your horse not so great at flat foot walking or suddenly jumps sideways leaving you unsure whether to focus on the reins or saving your glasses before you hit the ground? It's spring, horses are shedding their winter coats which means they lie in mud a lot, which means that you can barely see through your glasses because of all the dust. 

Do any of these situations sound familiar? Or can you even add your own experience?
Why should you spoil the most beautiful view of the world, the one from a horse's back, by not being able to see all the surrounding beauty clearly and sharply? Have you ever thought of using contact lenses? If you do, you will not regret it!
Contact lenses are primarily designed for active people, devoted to their hobbies who want to enjoy their time in full.
Apart from not having to worry about all the things that we mentioned in the beginning of this article, you will also get several other benefits. For example, a wider, or rather a complete field vision. Contact lenses, as opposed to glasses, don't limit your peripheral vision. Furthermore, you won't have to worry about your glasses falling under your horse who would, according to Murphy's law, most certainly step on them, or about a lens falling out during a horse ride. 

Naturally, we recommend choosing contacts that fit you well and that you have tried before. Of course, dust sits on contact lenses as well, though, so you should Ideally wear daily contacts that you can easily throw away after using. 

Whether riding in contact lenses is a given for you or whether you are just about to try it out, we recommend getting a small travel sized solution so that the dust from the bedding, hay or hair doesn't catch you by surprise. And because spring and riding season are in full bloom, do not hesitate and buy it right now! Plus, if you have any bonus points collected, you could get it for free. How come? We offer several solutions in our bonus programme!
Do any of your stable companions wear glasses? Send them a link to this article and make their life easier too! Or simply share it on Facebook. Surely some of your friends also enjoy horse riding.
Best selling products