Introducing the men behind the web: Tomáš, Honza and Marko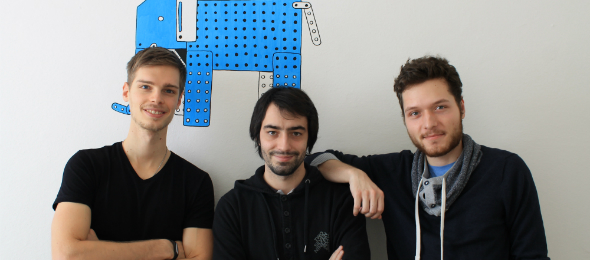 25. 1. 2016
People from Lentiamo.co.uk
We are delighted to introduce you to three of our programmers in our Prague office: Tomáš Horský, Marko Ristič and Jan Hrubeš. They are responsible maintain and develop Lentiamo.co.uk, alongside 15 of our other European websites, so you can enjoy a smooth shopping experience. And because, apart from their work, they themselves are not normally noticed, we have interviewed them to find out more about their time at maternia (the mother company of Lentiamo).
Five Questions for Tomáš, Honza (Jan), and Marko
How did you get to work for Maternia? Was it a coincidence or did you actually respond to one of our job ads?
Tomáš I had learned about the job from my previous colleague, Tomáš Bártek. Your ad intrigued me, so I attended an interview and it turned out to be an excellent choice.
Honza I firt heard about Maternia by accident, through an advertisement on the internet. When I came in for an interview and saw the nice people and atmosphere that prevails here, this decided it for me.
Marko After finishing university, I started looking for a job. Specifically I signed up on a job website, and used their main advantage – the possibility to choose what interested me the most. What happened? Well, the best that could have happened :) .
What are you currently working on for Lentiamo?
Tomáš Currently I lead a team of developers and programmers.
Honza At Lentiamo I'm working as a developer, so primarily I help to keep the whole system running, as a business.
Marko I work on everything to do with running the e-shop application. For example, I'm currently working on the integration of our website with a new accounting system.
Maternia's exe­cutive director is a former chief programmer – would this be an advantage for you?
Tomáš It's a big advantage. Not only does it mean that all of our questions are heard, but they are always answered without any delays.
Honza Definitely yes – mostly due to the good relations that we have. When I started at Maternia, I had a lot to get acquainted with. There are quite complex systems and processes that keep things running. Jiří, as someone who participated in the development of a large part of it, has saved me a lot of time and trouble in finding the causes of various problems, especially when he was not busy with the rest of the team and their tasks.
Marko Is it an advantage? It goes without saying, really. Assignments are given at such a level that immediately you know what and how to do them.
How do you relax? Still with computers and programming as your hobbies, or would you rather spend your free time "offline"?
Tomáš Programming entertains me, so I spend part of my free time doing that. But relaxation for me is also basketball, running and hiking.
Honza The fewer computers I see in my free time, the better. I'm addicted to sport. I like to travel, cook and educate myself.
Marko It's about half and half. Half on computers but I always leave time to spend elsewhere. Occasionally I will loosen up and try a new game, but I'm also very fond of reading and often go to play volleyball or table tennis with friends.
What would you like to say to our customers?
Tomáš We want you to use Lentiamo.co.uk in the most pleasant way possible.
Honza A big thank you for all your positive and negative criticisms!
Marko I appreciate very much that you chose us and that you have confidence in our work.
Best selling products
People also read…