FOCUS ON FITNESS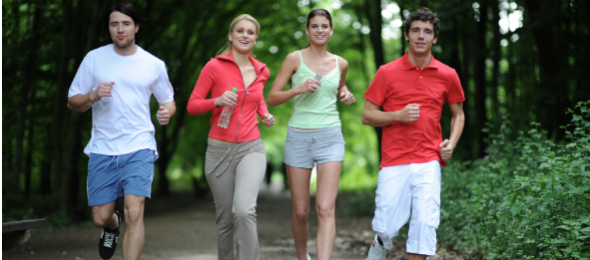 1. 4. 2015
Advice
Take an active approach to maintaining good vision, and find out just how excellent exercise is for eyes.
A vision for fitness
Did you know, according to the Royal College of Ophthalmologists, diabetic retinopathy is the UK's most common cause of legal blindness for under 65s? And did you also know that our increasingly sedentary lifestyles can contribute to eye conditions just like this one?
We hear a lot in the media about the positive impact of exercise on our wider health and wellbeing, but less so about how it affects our eyes. How exactly does it help?
Again, our good friends at the Royal College of Ophthalmologists have said that exercise helps reduce our chances of developing obesity, diabetes, high blood pressure, and artery narrowing. These are all conditions that can damage the blood vessels in the eyes and brain, and potentially lead to loss of sight. And, let's not forget that sports and outside activities are also good for eyesight as they require us to regularly change focus, which strengthens the eye muscles.
An active approach
As the clear choice for contact lenses, and the clear choice for happy, healthy eyes, we encourage everyone to keep active and help safeguard their eyesight now and for the future.
From gentle gardening to rugby, via tai chi and marathon running, there's a sport or exercise for everyone. And of course if you don't like the idea of wearing glasses while you're out there and getting fit, contact lenses are an ideal solution. Especially if you're partial to a contact sport or two, and need protective headwear and eyewear.
If you're not sure which lenses are right for you, our friendly Customer Care Team is here to help. Just let us know your prescription and we can suggest some suitable optical options.
Eye Openers: Your Stories
What sports do you do focus on? Do you wear glasses when in action? Do contact lenses help? Let us know your stories, tips and advice.
Best selling products
People also read…