Meet Ester Sánchez, the country manager for Spain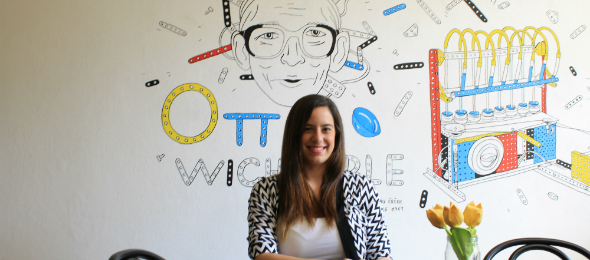 25. 5. 2016
People from Lentiamo.co.uk
She comes from the Canary Islands, studies a postgraduate in Social Media and Community Management, loves books by Paolo Coelho, salsa and travelling. Ester Sánchez, our country manager for the Spanish e-shop (Lentiamo.es) is a woman of many faces. Let's get to know some of them.
Five questions for Ester
You've been working for Maternia for two and half years. How did you come across the job?
Before contact lenses, I was working for a certain company in their lost luggage department. It was very stressful and that's why when I saw Maternia's job ad saying: "customer support, translations, no need to speak Czech", I didn't hesitate for a second. And when they liked me back, it was an easy decision ;)
Coming from the Gran Canaria and moving to Prague three years ago – what would you say is the biggest difference between the Czech and Spanish mentality?
Almost everything is different! Especially the way people interact with each other. In Spain, it's really easy to start chatting with anyone anywhere. It's much more difficult here. It was a huge struggle for me not to start talking to everyone I've met. Czechs are more reserved but it's also true that once you get to know someone better and get under their skin, they can be great friends and colleagues.
You are our country manager for Spain. Could you tell us something about how people buy contact lenses in Spain? Which are more popular – daily ones or continuous wear contacts? And do Spanish people prefer to wear contact lenses or glasses?
It was quite complicated with e-shops in Spain for a while, Spanish people are not used to shopping online too much. But it has all changed now. They have no problem with our e-shop, either. The most popular contact lenses are monthly ones – Biofinity, Acuvue Oasys and Air Optix Aqua. And because Spain is a country full of sun, they wear sunglasses a lot. And under them – contact lenses.
You are far away from home – what do you do in your free time in Prague? What do you enjoy doing?
The majority of my time is consumed by my graduate studies (social media and company management). When I have any time spare, I enjoy going to the opera or reading. I love Paolo Coelho or Ángela Becerra who are very popular in Spain and Latin America. I love being in the water so the sport I practice the most is swimming, I miss the sea a lot. Another passion of mine is travelling, every weekend and bank holiday I go somewhere. I miss my family but we try to Skype once or twice a week.
And an obligatory question at the end – what would you say to our customers?
I've been working on Lenatiamo.es e-shop since the very beginning and I can thus see how we've grown and that our customers keep coming back to us. Without you our work would be fruitless, thank you so much for your support and trust. We work very hard to ensure you like our e-shops.
Best selling products
People also read…